The NC Website Designer's Bio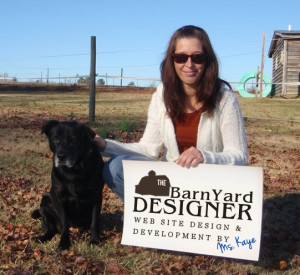 Hello! I'm Kaye Handlon, a free-lance website developer / web designer in North Carolina. Allow me to tell you a little about my self.
I love doing website design & development, and I'm very lucky to be doing what I do at my lovely farm in North Carolina.
Professional 'website designer' info about me;
It all started with a computer tech program in FL in 1996. By 1997 I was working at KSA Advertising converting their print medium campaigns to websites.
After moving to North Carolina in 2004 I began working for Roaring Aardvark Web Design, and was an employee until the boss web developer retired in December of 2013.
In July of 2013 when my boss at Roaring Aardvark Web Design announced her pending retirement from the website design industry (and I decided I didn't want to starve to death) I became "The BarnYard Designer".
Working on WordPress websites, I love it! I have been doing so for about 10 years now.
Building static HTML websites, I love it too! I have been that for about 20 years now (where does time go?!?).
I will work on eCommerce websites using WordPress and PayPal or Square.  I will not touch eCommerce sites that work with any other platforms with a 10′ pole, no way, no how.  I value my personal sanity.  😉
Some personal info about me;
I thoroughly enjoy both of my careers and both my businesses.  A wise person once said "If you enjoy what you do for a living, you'll never work a day in your life".  🙂